---
NEWS! Last up date: December 1st, 2017

---
---
---
大岩オスカール・ドキュメンタリーShort Documentary (in Japanese), produced by ART-ist Inc.New York
---
Short Documentary (in Portuguese), produced by ART-ist Inc.New York
---

New book from author Yuki Ibuki
on sale in Japan, September 21st, 2017 !
cover by Oscar Oiwa
"Flower Garden" (2004年、広島市現代美術館蔵)が伊吹有喜(いぶきゆうき)さんの最新刊「地の星なでし子物語」(ポプラ社)の単行本の装画になりました。9月21日から全国の書店、オンラインショップで販売されます。また、来年2月に続編「天の花なでし子物語」も刊行されますので、お楽しみに!
販売先は こちらです。
---
Japanese American National Museum, Los Angeles

Transpacific Borderlands: The Art of Japanese Diaspora in
Lima, Los Angeles, Mexico City, and São Paulo
September 17, 2017 - February 25, 2018
This exhibition will examine the experiences of artists of Japanese ancestry born, raised, or living in either Latin America or predominantly Latin American neighborhoods of Southern California.


For more information click here
---

Woodone Museum of Art, Hiroshima
ウッドワン美術館 、 2017年8月25日(金)~11月12日(日)

Taguchi Collection Exhibition (Yayoi Kusama, Andy Warhol, Oscar Oiwa, Keith Hering, Mika Kato, Yoshitomo Nara, Julian Opie, Aida Makoto, Nawa Kohei and other)
タグチ・アートコレクションは、ミュージアムピースの大作が多く含まれる 国内有数の現代美術コレクションです。本展では、その中から選りすぐった国内外の作家の作品をご紹介します。主な出品作家は、キース・ヘリング、 アンディ・ウォーホル、草間彌生、奈良美智、鴻池朋子、 大岩オスカール、会田誠、名和晃平、ジュリアン・ オピー、ライアン・マッギンレーなど.
For more information click here
Work in exhibition: Icebergs, 2007, oil on canvas, 227 x 444 cm / 90 x 175 inches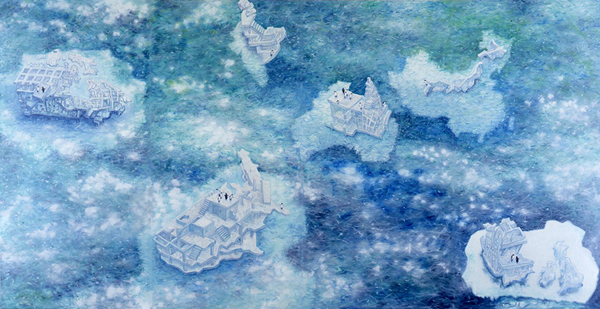 ---
---
Installation drawing "Bosque" for Embassy of Brazil, Tokyo.

Available to see from 14th June, 2017



---
Japan Alps Art Festival 2017 - Shinano-Omachi Food and Art corridor.

Date: from 4th June to 30th July 2017 (57days). For more information, click here .

---
Christie's Latin American Spring auction, Lot 195. For more information, click here .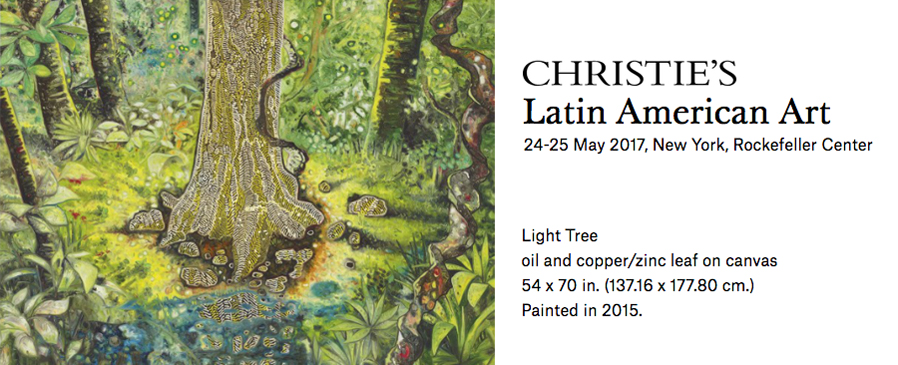 ---
Wall drawing Island Road , commission work for Shodoshima International Hotel. For more images , click here .

Architecture: Ryo Abe office. Assistant: Yagyu Chubei, Marico Tomy



---
work series! For more images click here




---
---
The Creation of the World by Oscar Oiwa.
This book will cover works from 2007 to recent times, and convey the magnitude of this contemporary artist's pieces. In spite of the rich creativity and color, many of the works also reveal a sharp criticism of the modern world. With themes as varying as simple kitchens, expansive cities, and the political borders of countries, the phantasmagoric nature of the world he draws comes as a welcome surprise.
Kyodo News, Japan (March 2016)
Publisher: Kyuryudo Art Publishing, Tokyo + Art-ist Inc, NY
Hard cover, 8x12 inches, 228 pages, English/Japanese. US$40.
For more information click here
For shopping click here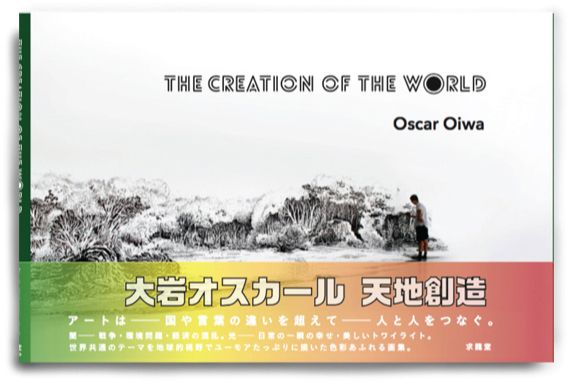 ---
大岩オスカール天地創造
Now on sale in Japan !


2007から最近作までを網羅した作品集「天地創造」が求龍堂より 4月末に発行されます。130点を超える作品のカラー図版と小松崎拓男氏、 マリリン・ゼイトリン氏、ジャコポ・クリヴェリ・ヴィスコンティ氏 とオスカールのテキストを日本語、英語、ポルトガル語で収録。
求龍堂ウェブサイト、 全国の書店、美術館等でお求めください。
A4横型、ハードカバー、228ページ、定価4000円。