---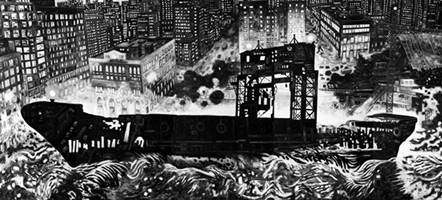 Interview for Peripheral ARTeries magazine
by curators Josh Ryder and Melissa C. Hilborn, Summer 2017
---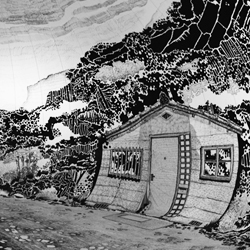 Setouchi Trienalle 2016, Oiwa Island, dome installation.
Selected PRESS worldwide:
Tencent/Wechat (Shanghai) , Yatzer, (Athens) , Kaiakwen (China) , Justapoz (San Francisco) , Il Sole (Milano) , Spoon&Tamago (Tokyo/New York) , Booooom, (Vancouver) , Journal du Design (France) , Kaiakween (Taiwan) , My Modern Met , La boite verte (France) , Designboom , DF(New York) , Mixed Grill (The Netherlands) , The Japan Times (Tokyo) , This is Colossal (USA), Klonblog (Germany) , Design Indaba (Capetown) , Casa Brutus(Tokyo) , Apartment Web (Tokyo) , Colocal (Kagawa) , Asia Pacific Arts (California) , Fubiz (Paris) , Asap Journal (Korea) , Kultura W Plot (Turkey) , Chambre 237 (France)
---
47th Montreux Jazz Festival 2013.PRESS:
In French: Le Matin by Fred Valet and Laurent Fläckiger, 9/February/2013
In English: Geneva Lunch by Allen Wallace, 9/February/2013
In German: Bäro dlb, 9/February/2013
In Portuguese Folha de São Paulo by Cassiano Elek Machado, 9/February/2013
---
Interview to Isabella Valle (in Portuguese). Canson News, internet magazine, January 2012.
– Desde criança, eu gostava muito de desenhar e assim foi indo até a vida adulta. (...)

[cont.]
---
The Painting of Oscar Oiwa: Authorial Signatured and the Weather as It Is and Will Be by Toshiaki Minemura.
Text (in Japanese) from Asian Kitchen exhibition catalogue, May 2009, courtesy BTAP Beijing

[cont.]
---
The Urban Gaze of Oscar Oiwa / O Olhar Urbano de Oscar Oiwa by Angelo Bucci.
Text from Asian Kitchen exhibition catalogue, May 2009, courtesy BTAP Beijing
During the celebrations of the Chinese New Year 2009 a renowned and yet unfinished skycaper (...) [cont.]
Durante as comemoracões do ano novo chines, em 2009, um célebre arranha céu ainda inacabada (...) [cont.]

[cont.]
---
Urban Fantasies by Sonia Kolesnikov. PRESTIGE, Hong Kong, August 2009 edition.
Throught his witty manipulation of urban landscapes, Oscar Oiwa creates a throught-provoking futuristic world (...)

[cont.]
---

Oiwa in Wonderland by / Oiwa no país das Maravilhas por Jacopo Crivelli Visconti, October ,2009.
Text from "Nest" exhibition catalogue, courtesy Thomas Cohn Gallery, São Paulo

Alice's Adventures in Wonderland, the 1865 classic by Lewis Carroll, is replete with fantastic situations (...) [cont.]

Alice no País das Maravilhas, o clássico de 1865 de Lewis Carrol, está repleto de situacões e personagens (...) [cont.]
---

Postwar art exhibit, Phoenix Museum of Art, Arizona

Review by Richard Nilsen, The Arizona Republic , July 25th, 2008.

Special ehxibits are fine; museums couldn't survive without them (...) [cont.]
---
Text by Yoshimi Chinzei, Tokyo Museum of Contemporary Art curator.
Yomiuri Weekly magazine, June 2008 [cont.]
---

Oiwa's dreams blend nightmares with hope by Cristoph Mark, The Daily Yomiuri(May 30th, 2008)

Somewhere between optimism and pessimism; man and nature; war and peace (...) [cont.]
---
Article (in Japanese) concern Museum of Contemporary Art, Tokyo solo exhibition by Makoto Murata , Art journalist.
Hokkaido Shimbun, May 12th 2008

[link]
---
ART in America, December 2007 edition, New York. Review by Janet Koplos
Oscar Oiwa is a Brazilian of Japanese descent who has in recent years lived in Tokyo, london and now New York (...)

[cont.]
---
Review (in Japanese) by Yoko Hayami , Art Critic and Kyoto University of Art and Design, Associate Professor

BT monthly magazine, September 2007 edition, Tokyo [link]
---
Long Interview with Aomi Okabe

art critic and Musashino Art Universisity professor

Link (in Japanese ) to Culture Power website [link]
---
OSCAR OIWA by Claudia Laudanno, Art Nexus (January, 2007)

The current production of New York-based Brazilian artist of Japanese ancestry consists(...) [cont.]
---
---
---
CAOS / CHAOS by Oscar Oiwa (October, 2006)

Sento na mesa de um Café perto do meu estudio para escrever esse texto.(...) [cont.]

I sit a café table near my studio and get ready to write this essay.(...) [cont.]
---
---
---

Satio Oiwa ou la revanche d´une nature méprisée by Philippe Dagen , Le Monde (January, 2006)

Avec une grande aisance ce Brésilien d´origine japonaise peint l´échec des entreprises humaines face au maelström, à la neige, à la végétation. (...) [cont.]
---
TOPPLING FUTURES by Agnaldo Farias (February,2005)

For the benefit of the forgetful reader, Oscar Satio Oiwa made his debut in the Brazilian art circles at the 1991 São Paulo International Biennial. In those days, the 25-year-old artist had just earned his bachelor's degree (...) [cont.]
---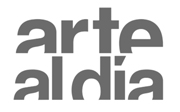 GARDENING WITH OSCAR OIWA / JARDINERIA CON OSCAR por Marilyn Zetlin (January ,2005)

Oscar Oiwa is a Brazilian artist of Japanese heritage currently working in New York. He is not the first artist to record the impact of globalization but (...) [cont.]

Oscar Oiwa es un artista brasileño de ascendencia japonesa que trabaja actualmente en Nueva York. No es el primer artista que ha registrado en sus obras el impacto de (...) [cont.]
---